Lake Tahoe, November 2001
All the rain in November was snow in the high country, so I took a Sunday morning trip up to Tahoe and two of the state parks on the California side of the lake.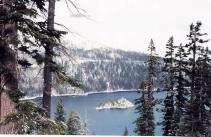 Another view of Emerald Bay (click for full-size image)
I took quite a few pictures, but have not scanned most of them (and not that many came out anyway). I may add more later.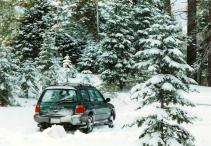 Trusty Forester w/ AWD (click for full-size image)
up to `all Lake Tahoe'
back to trips
All contents are copyright © 2001 Chris Torek.