Red Rock Canyon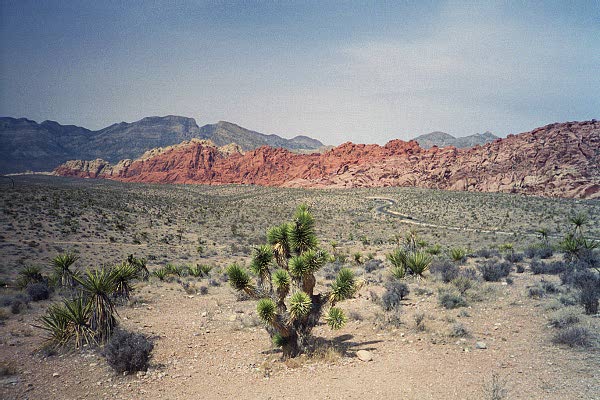 View from visitor's center
Wednesday, 10 March 1999.
This was part of a trip originally intended to see wildflowers in the Sonoran Desert. Unfortunately, while we had the right time of year (early March), we went in the wrong year. In 1998, the El Niño rains brought forth flowers that (approximate quote from a nice lady ranger at Casa Grande Ruins) `had not been seen for thirty years.' In 1999, instead of 2.0 inches of rain by March, the area had gotten about 0.2 inches.
We started with a trip to Las Vegas itself. I met my dad and his wife Cathy, and my younger brother Kevin and his wife Becky, at the airport. Of course we did some of the usual Vegas things. My brother played a slot machine and doubled his money: he dropped in a nickel and got 10¢ back. I played a quarter machine and zeroed mine. Oh well.
I forgot to bring my camera with me on the day we did the Hoover Dam tour.
Red Rocks Canyon State Park is about 12 miles (20 km) west of Las Vegas itself, right off Charleston Blvd. To get there by car, just take I-15 to the Charleston exit, and go west until you see the signs for the park entrance.
The small pictures here are links to the full-size ones. Again, these were all taken with a cheap automatic camera. Fortunately there tends to be plenty of light in the desert....

This particular formation is called the `Calico Hills'. It is more or less the same kinds of sandstone as found at Valley of Fire State Park (east of Las Vegas, just north of an arm of Lake Mead). There is a path from a parking area down into the hills, and you can get up close to the weird striations, and the holes made by pebbles rolling in wind for hundreds of years.
Towards the east is some darker rock forming the Spring Mountains, which are made of a grey limestone and are part of the Keystone Thrust fault.

In between, and leading up towards the mountains, are some short hiking trails. Apparently they get donations from various people, including the Penn State Alumni Association, and amusingly, my brother Kevin is a Penn State grad.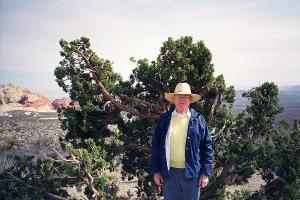 My dad, in front of a juniper
Near the base of the north part of the Wilson Cliffs, there is a trail that leads past a stream. Kevin went to look for waterbugs. The rocks along the trail are interesting too; for some reason, this one reminded me of a watermelon.