Mt St Helens National Volcanic Monument, July 2000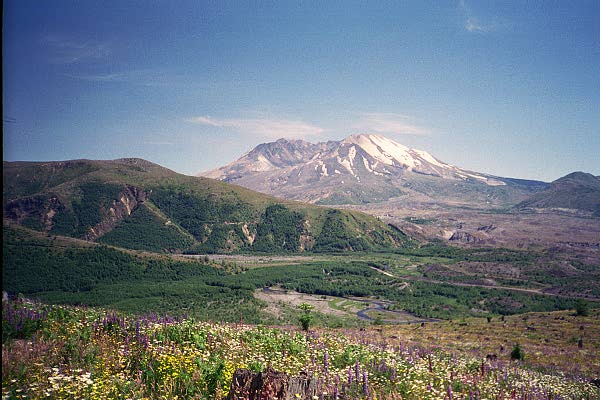 View from Coldwater Ridge
Mount St Helens National Volcanic Monument is in Washington State, near the Oregon border, and largely (if not entirely) within the Gifford Pinchot National Forest. We (my parents and I) were there for two days in July of 2000, on our Pacific Northwest trip. As usual, we were looking for wildflowers, visitor's centers, and the like -- and there are plenty here.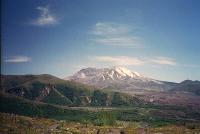 View from Silver Lake area (click for full-size image)
If you take Interstate 5, as we did, the direct route coming up from the south is to get onto Highway 504 and head east. This quickly takes you to an official Mount St Helens visitor center, right by Silver Lake. From here you can see the volcano in the distance. There is a short walk by the lake, not particularly exciting, but easy. Returning to 504, however, you eventually join 505; if you are heading south from Seattle, you can take 505 directly from the 5, bypassing Silver Lake entirely. After a rather longer stint on 505, you will climb up to Coldwater Ridge.
The elevation here is higher, and Coldwater Ridge got quite a bit of the effect of the 1980 eruption, so its soil is now tremendously fertile. The combination of extra rain and snow, good soil, and cooler temperature produces quite a garden, as it were.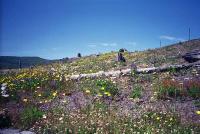 Coldwater Ridge, and my parents on the path there
(click for full size images)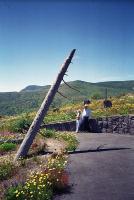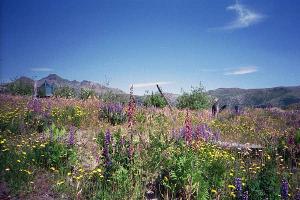 Wildflowers at Coldwater Ridge (click for full-size, as usual)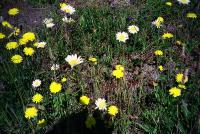 Closeups of some of the flowers. Someday I should try to identify these...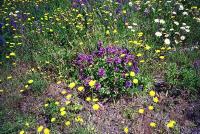 Continuing up the road, the vegetation eventually thins out, as you get to the center of the `blast zone'. I suspect in not too many more years, even that will be rather less evident, but in 2000, the view from the Johnston Ridge Observatory was impressively bleak. The visitor's center at the observatory is well worth visiting, though, especially the film. There is a sort of surprise at the end of the film -- easy enough to figure out, but for those who do not want to, I will try not to spoil it here.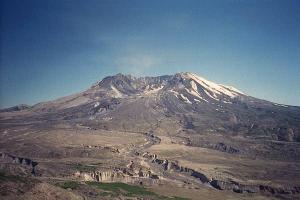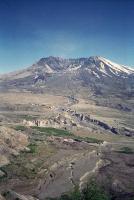 We stayed overnight (two nights, actually) in Packwood, which requires going all the way back to the 5, north a bit, and then east again on US12. The only advantage of doing this is that it allows you to take the `back way' in, from the northeast. To do this, you go back to the little town of Randle, then south on Forest Road 25 (FR25), then turn west onto FR99. These are narrow, twisty roads, although actually both FR25 and FR99 are high quality for USFS roads (after all, they are both completely paved!). This route takes you up through an interesting section of the blast zone -- there is a point where the firey bits only hit every other tree, as it were.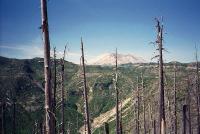 View from FR99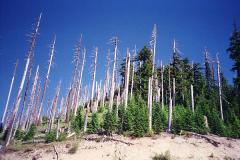 Edge of blast zone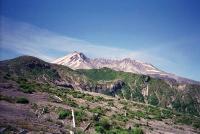 Green stuff is already sprouting here
There is a little amphitheater at the end of the road at Windy Ridge, and during the summer, you can hear lectures here. There is also a path (with over 400 steps; I counted them, but I forget the exact number) up to an overlook from which you can see Spirit Lake. Interesting things happened to the lake when the volcano erupted; you can hear about this at the lecture, or read about it at any of the other visitor's center, but it is one thing to hear about it, and another to see it relatively up-close.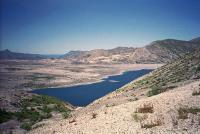 Spirit Lake. Note logs still floating in lake, 20 years later.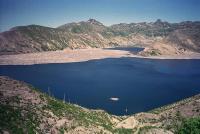 All contents are copyright © 2001, 2002 Chris Torek.