Great Basin National Park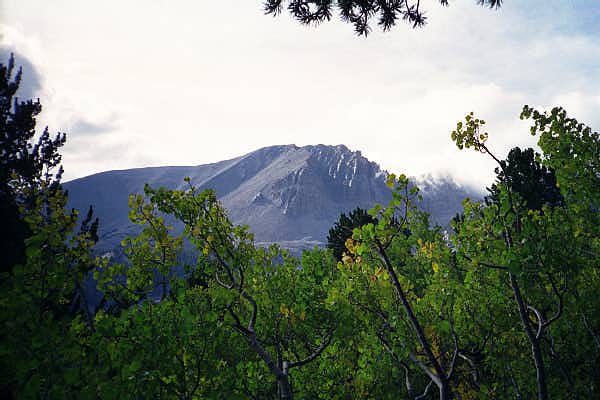 Wheeler Peak in Great Basin National Park
The last stop on my trip, before the drive home all the way across Nevada, was at Great Basin National Park. This lies in the Snake Range of Nevada, near the border with Utah, about 70 miles east of Ely (pronounced `elly', not `ee-ly'). The nearby town of Baker is remarkably tiny for a national park gateway, but then, this is a very new national park.
From Cedar City, I went west on Utah 56, and stopped briefly at Cathedral Gorge State Park in Nevada. Cathedral Gorge is actually an old lake bed. Lots of sedimentary rocks form in lake beds, but not many of them are quite as soft and crumbly as mudstone. This stuff comes apart quite easily, forming steep-walled `canyonettes'. It was too dark inside these to get good pictures, but there are lakebed fossils sticking out everywhere. I took three decent pictures, though, as a sample of what is there.
The two main visitor-drawing features of Great Basin National Park are Lehman Caves and Wheeler Peak itself. When I arrived on Saturday afternoon, it was raining, off and on, so I set up camp at Upper Lehman campground and then went down to the visitor center to take the last tour of Lehman Caves. After that I went into the little town of Baker for dinner, as the rain made cooking infeasible. Then back to camp, to slide off the thermarest repeatedly all night long (campsite #20 is not quite level and there was no good way to arrange the tent).
Sunday morning, the weather looked less threatening, and I parked at trailhead (at the 10,000 foot level) and started on the moderate climb to the 13,000 foot Wheeler Peak. The trail passes by a small mountain tarn.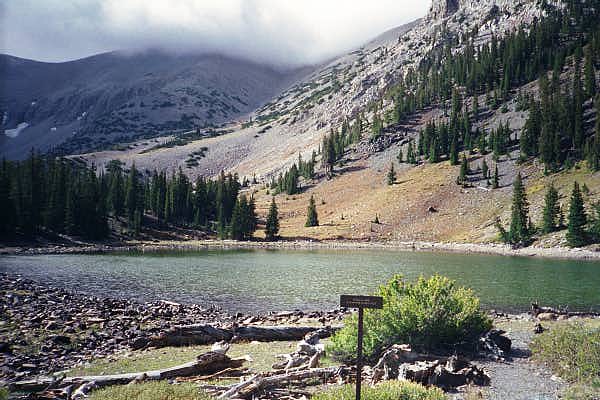 Stella Lake
Beyond Stella Lake, the trail continues on up over the shoulder of the mountain. About at this time I met up with a husband-and-wife couple who were coming down, out of the cloud that was rapidly pouring over the top of Mt. Wheeler. They had given up on reaching the peak; it is easy to see why.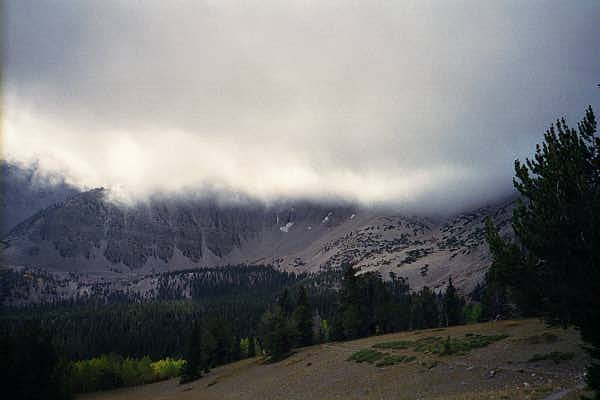 The trip back down went through some colorful bits of Aspen.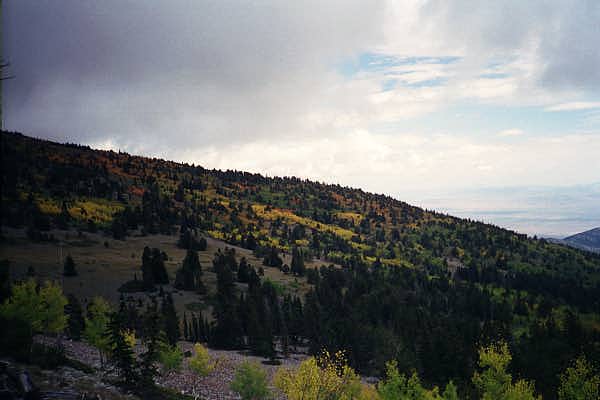 Aspen trees on the slope.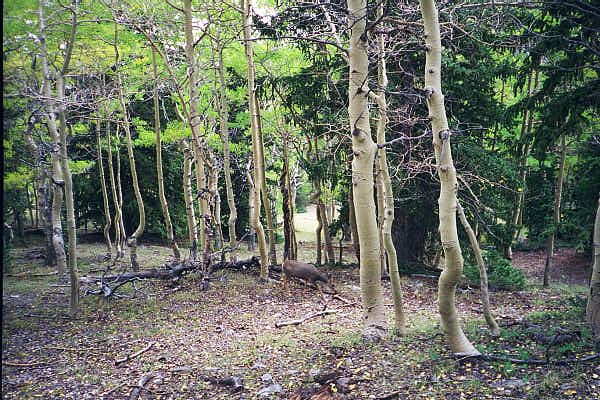 Inside the aspens.
Just as we were arriving at the trailhead, we heard thunder, and before long a full-fledged rain-and-hail-and-ice storm was going. I used some shelter available at Wheeler Campground to make and eat lunch and wait out the storm. It never really stopped, but it paused off and on long enough to head back down to the campsite around 3 PM, and long enough to make dinner.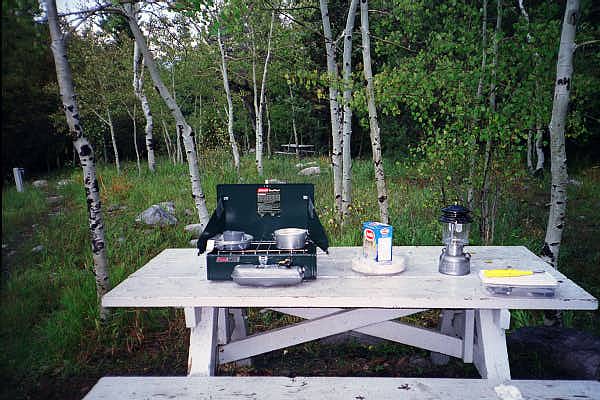 dinner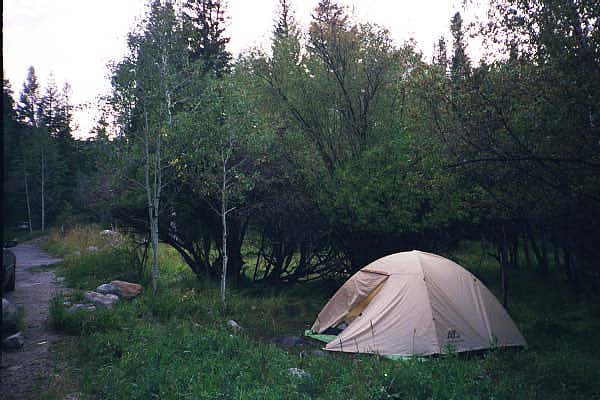 Bed
Monday morning I packed up and headed home. It had stopped raining some time in the night, but everything was still thorougly soaked. I had to set up the tent again once I got home, and let it dry out.